Nancy McCombs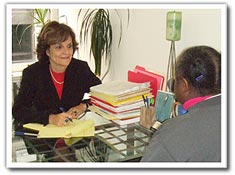 Nancy McCombs has been practicing Social Security law for ten years. She graduated from Hastings College of the Law in San Francisco. Prior to beginning her legal career she obtained a Ph.D. in Comparative Literature and taught literature and language.
She spends considerable time training social workers and medical providers in the area of SSI and Social Security law.
She loves hiking, yoga and meditation, traveling in Mexico and other parts of the world, and is trying to add Spanish to her German fluency and learn the violin.